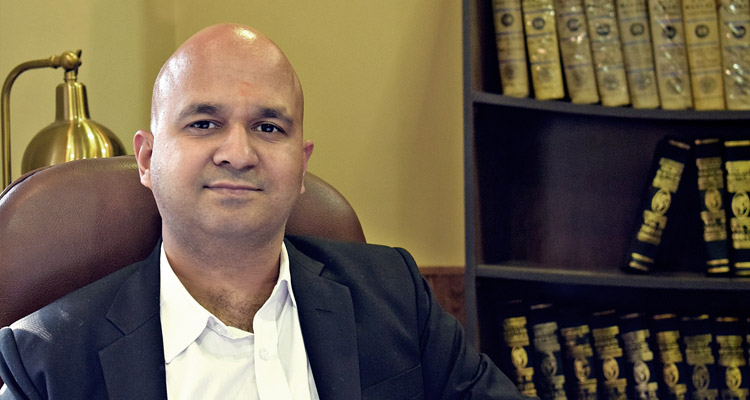 Pradeep Sharma is the Co-Founder, Partner and primarily leads the firm's Civil and Criminal Dispute Resolution and Litigation practice. After graduating in the year 2009, Pradeep has had an extensive practice primarily in the Punjab and Haryana High Court as well as District Courts. His practice involves special focus on various aspects of Criminal and Civil Litigation as well as Service and Family Law. Pradeep is also empanelled with several Government Bodies and PSUs such as those under Ministry of Railways as well as nationalised banks.
With more than 13 years of experience, Pradeep has also successfully represented clients in High Courts, District Courts, Central Administrative Tribunal, Armed Forced Tribunal and various other judicial forums and Tribunals, particularly in Civil Appeals, Civil Revisions, Family and Matrimonial Disputes such as those pertaining to Divorce, custody, guardianship, inheritance etc, matters arising out of contractual disputes, Land and Property matters, especially those involving suits for declaration, possession and tenancy.
As far as commercial litigation is concerned, Pradeep has dealt with several complex commercial matters pertaining to employment laws, infrastructure and insolvency and bankruptcy.
Pradeep specialises in Criminal Litigation and has provided assistance to various clients in several matters concerning Bails including Regular and Anticipatory as well as Appeals in the High Court, Criminal Complaints, Criminal Trials, Quashing, and Criminal Appeals and Revisions before the High Courts and the Supreme Court.
He also offers advisory on clients on various issues relating to Criminal and Civil Law. In addition to the above, Pradeep has also represented clients in Central Administrative Tribunal, Armed Forces Tribunal and the High Court in numerous Service related matters related to unfair punishments, pay-scale disparities, employment contracts, promotions and seniority, unlawful dismissals and suspensions, reinstatement and in matters pertaining to judicial review of Administrative Actions.
Professional Affiliations:
Bar Council of Punjab and Haryana
High Court Bar Association (Punjab & Haryana High Court)
Member, Ethics Committee, National Institute of Pharmaceutical, Education and Research (NIPER)
Practice Areas:
Criminal Laws
Military Laws
Service Law
Law of Contracts
Real Estate Law
Insolvency and Bankruptcy Law
Consumer Disputes
Administrative Law
Family Law